"Swami Art" is the studio where Swami Family creates and gives life to the imaginations with the help of paper and colors.
Raju Swami is the master artist in the studio. He was born in 1967 at Bikaner, Rajasthan. He start painting in the age of 7, under is father guidance he learn sketching and the miniature technique. Raju Swami is specialist in Botanical and English Botanical miniature paintings. In his studio he also works on  new creative subjects precious Gold Leaf, Fresco (Traditional) and other miniature paintings.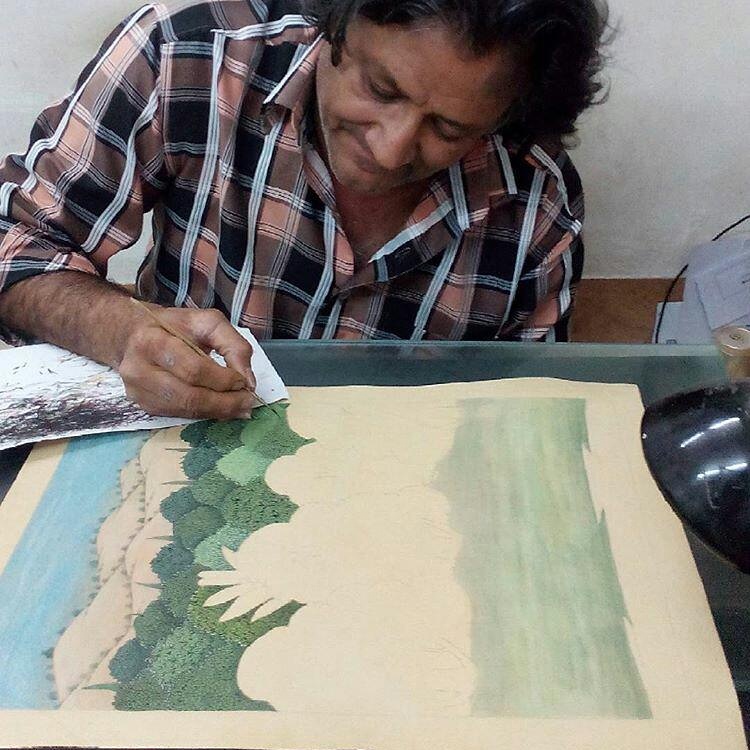 Raju makes frequent forays into the desert outside Bikaner. Here he studies desert plants, flowers and trees and renders them into Creative Botanical studies of extraordinary beauty. He works on handmade and antique papers.
Raju Swami has already had exhibitions in Jodhpur, Gwalior, Jaipur and at the National Craft Museum New Delhi, He was the only traditional artist selected for an artist camp and exhibition organized by the Maurya Sheraton Hotel in 1996, and his paintings have been used for UNICEF greeting cards. Raju's work has been published in the Garden of Life, by Naveen Patnaik, published by Doubleday (New York, 1993) and his paintings were included in the 8th international exhibition of Botanical Art and Illustration, organized by the Hunt Institute for Botanical Documentation at Pittsburgh, in 1995.
Miniature Art:

Scattered through the old cities of Rajasthan, thousands of artists still work in traditional painting ateliers, grinding mineral and stone colors by hand, preparing of fine brushes from the hairs plucked from the tails of squirrels, burnishing antique and handmade papers, working with precious gold leaf, and preserving skills and techniques honed over many generations.
Their artistic ancestors were the painters attached to courts of Rajput rulers. From the 16th through 19th centuries, each Rajput kingdom developed its own striking painting style, reflecting the devout and courtly atmosphere of the royal courts.