Miniature Figure include paintings of Animals, Birds, men, women and mughals. Bikaner School of miniature art is known for their figurative work on walls. Many examples of these work can be found at Junagarh Fort of Bikaner.
These Artworks are perfect example of miniature because these includes perfect detail of a figure and cover many subjects like Sufis, Gods, men and women.
Detail Work Can be seen in Bread of this Sufi Below –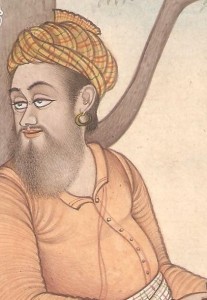 These detailed work required lot of experience and calm. Details can be easily spotted with naked eyes but extreme details can be found only with magnifying lens.
Raju Swami himself is among those rare artists who is still practicing Bikaner school miniature style Figures.
Check Out All These Miniature Figure Galleries